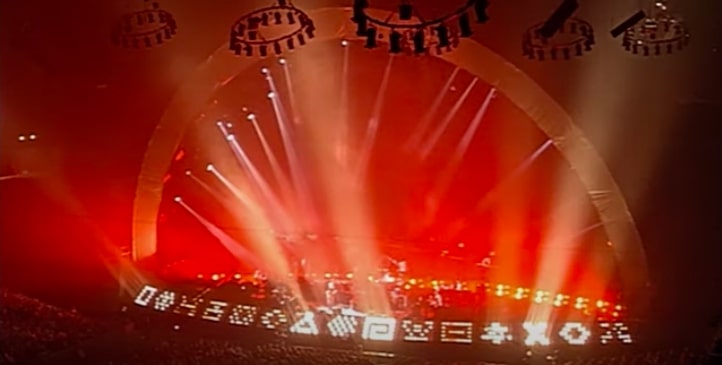 I Pink Floyd hanno deciso di scendere in campo ed intrattenere i loro fan con i concerti live caricati su Youtube e fruibili gratuitamente. Quattro settimane di concerti live ai quali sarà possibile accedere attraverso il loro canale ufficiale della nota piattaforma video. L'annuncio è stato fatto direttamente dalla band su Facebook
Head over to the Pink Floyd channel on YouTube now for PULSE which is the first full performance available as part of the four week @YouTube Film Festival. Next Friday, at 5pm, Pink Floyd Live At Pompeii will be added to the Festival's offerings.
Si partirà con il concerto del 20 ottobre 1994 all'Earls Court di Londra. Il filmato è stato completamente restaurato dal nastro originale nel 2019 e arricchito con i colori del digitale. Famoso l'aereo che attraversa tutta la platea al termine di On the Run e si schianta a lato del palco.
Pink Floyd – PULSE (Restored & Re-Edited 90 Minute Version)
Filmed live on 20 October 1994 at Earls Court, London, UK. Restored & re-edited in 2019 from the original tape masters.
0:00 Speak To Me
1:17 Breathe (In The Air)
4:00 On The Run
7:43 Time
14:23 The Great Gig In The Sky
19:34 Money
28:30 Us And Them
35:31 Any Colour You Like
38:48 Brain Damage
42:34 Eclipse
44:27 Sorrow
55:37 Keep Talking
1:03:13 High Hopes
1:11:20 Wish You Were Here
1:17:30 Comfortably Numb
Out now: Pink Floyd's 'The Later Years' box set https://pinkfloyd.lnk.to/TheLaterYears
THE LATER YEARS
Included on 'The Later Years', a 18-disc box set (5xCDs, 6xBlu-Rays, 5xDVDs,2×7") covering the material created by David Gilmour, Nick Mason and Richard Wright from 1987 onwards, with unreleased audio and audiovisual material, including the 1989 Venice and 1990 Knebworth concerts, as well as updated, restored and remixed audio and video, 2 x 7" singles, 60-page hardback Photo Book, 40-page hardback Credits Book, Lyrics Book, 3 x reproduction tour programmes, card envelope containing collectible memorabilia, plus Blu-rays and DVDs in individual wallets.
Pagina ufficiale dei Pink Floyd su Facebook
https://www.youtube.com/channel/UCY2qt3dw2TQJxvBrDiYGHdQ